Manufacturing Execution Systems are the fundamental enablers of Digital Transformation. To successfully improve your Manufacturing Operations, you not only need to invest in smart technology and digitalization, it is also essential to invest in your people. MES training, MOM training, MOM education, MES education, call it what you like, education plays a vital role in developing MES/MOM best practices.
MES/MOM Methodologies Certificate of Competency, is MESA Internationals independent global education program developed for the global manufacturing community. Created to educate and build your knowledge and awareness of MES/MOM Solutions, both of which are essential move forward to Industry 4.0 and Smart Manufacturing. Through a comprehensive set of courses, this education program looks at sharing best practices on: industry standards ISA95 and ISA88, creating a solid business case, how to make the right MES/MOM Selection for your manufacturing needs and finally how MES/MOM deployment helps to transform your business to operational excellence level.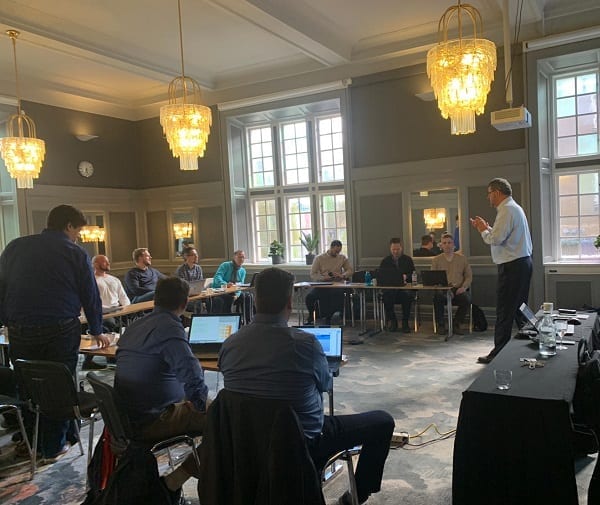 Major Overhaul MES/MOM Methodologies CoC Program
June 2022, after 11 years of this MESA Global Education Program – during which continuously small changes and improvements were made –  it is now completely renewed. The most important updates are:
A special introduction course is added with actual trends and observations in manufacturing and MES/MOM and Smart Manufacturing, which serves as a basis for all other courses in the program.

Another foundational element is the course about standards. In this part, there is more explicit focus on MES/MOM and all information is up-to-date with the latest versions of them. Next to this, a special course on Smart Manufacturing and Industry 4.0 has been added, including a wide range of advanced technologies and the explanation how MES/MOM forms the foundation for leveraging these technologies successfully. The course about solution architecture now also comprises the modern standards like Reference Architectural Model Industry 4.0 (RAMI4.0) and Industrial Internet Reference Architecture (IIRA).

More attention is given to "Manufacturing Maturity" as a fact based approach for creating roadmaps toward a future improved situation: assessment – analysis – plan to improvement.

A specific course is created about Manufacturing Master Data Management because it is a prerequisite for an adequate response to the increasing dynamics of the demand as it is for Smart Manufacturing and Industry 4.0.

Justification of the investment in MES/MOM and smart manufacturing initiatives (ROI) remains important. Explicit examples of successful cases are added, including best practices how to find the benefits.

A new course is added for MOM Solution Deployment, replacing the old Project Management course.
In general, all courses include more pragmatic examples and more answers to "How to …" questions.
Explain why manufacturers are changing and how MOM plays a major role in accelerating change through scalable continuous improvement.
Discuss the business value and direction of MOM Standards.
Develop a comprehensive knowledge and understanding of relevant industry standards, ISA95 and ISA88.
Understand the various MOM application types and their roles in an application landscape.
Know about existing (smart) manufacturing architectures.
Discuss the opportunities Smart Manufacturing and Industry 4.0 technologies and methodologies offer.
Discuss why a Manufacturing Transformation Strategy is needed.
Explain how a Manufacturing Capability Assessment provides guidelines for a structured step-by-step improvement.
Explain the importance of Manufacturing Master Data Management and its role in the New Product Development and Introduction process.
Recognize the increased decision-making capabilities of mapping operations metrics to financial and business metrics.
Understand the role of advanced analytics and smart approaches as Machine Learning.
Develop a strong business case, identifying the key business elements to justify MOM and Smart Manufacturing projects.
Understand the process for MOM product selection. How to select the right MOM solution for your organization needs.
Discuss the different project methodologies and frameworks.
Explain the importance of user acceptance.
Classroom and Online
Classroom: The program is taught in a classroom environment over 4 consecutive days.
Online: Instructor lead online version of the same program, delivered in 5 five-hour sessions on 5 consecutive working days.
Certificate
A Competency Test will be administered for each course in the program, requiring an 85% score or higher on each test in order to receive the program's Certificate of Competency. For each course, there are two parts to the Competency Test:
In-course test consisting of up to 10 questions answered as the course progresses.

Post-course test consisting of up to 10 questions answered within eight weeks after course completion.
Completing a MESA Approved Certificate of Competency is recognized globally, showing industries you have achieved a high standard of education within the MES/MOM field. Over 1800 professionals are now MESA Approved MES/MOM Certificate holders.
Frequently Asked Questions