MESA's GEP is the industry's only independent, professional education program supported by the global MESA community. Hundreds of MES/MOM professionals have participated in the GEP and are driving value back to their businesses. MOMi is Authorized Training Partner of MESA International.
The programs instruct manufacturers, producers and solution providers on how to marry the power of modern Information Technologies (IT) and the process / project rigor to implement them with your operational expertise to unlock the potential within your operations.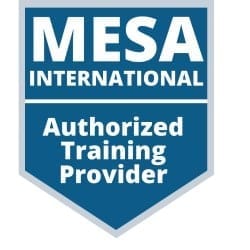 Major Overhaul MES/MOM Methodologies CoC and CoA Programs
Summer 2022, after 11 years of the MESA Global Education Program – during which continuously small changes and improvements were made –  it is now completely renewed. 
The most important updates in the Certificate of Competency (CoC) program are:
A special introduction course is added with actual trends and observations in manufacturing and MES/MOM and Smart Manufacturing, which serves as a basis for all other courses in the program.

Another foundational element is the course about standards. In this part, there is more explicit focus on MES/MOM and all information is up-to-date with the latest versions of them. Next to this, a special course on Smart Manufacturing and Industry 4.0 has been added, including a wide range of advanced technologies and the explanation how MES/MOM forms the foundation for leveraging these technologies successfully.

The course about solution architecture now also comprises the modern standards like Reference Architectural Model Industry 4.0 (RAMI4.0) and Industrial Internet Reference Architecture (IIRA).

More attention is given to "Manufacturing Maturity" as a fact based approach for creating roadmaps toward a future improved situation: assessment – analysis – plan to improvement.

A specific course is created about Manufacturing Master Data Management because it is a prerequisite for an adequate response to the increasing dynamics of the demand as it is for Smart Manufacturing and Industry 4.0.

Justification of the investment in MES/MOM and smart manufacturing initiatives (ROI) remains important. Explicit examples of successful cases are added, including best practices how to find the benefits.

A new course is added for MOM Solution Deployment, replacing the old Project Management course.
The MES/MOM Methodologies Certificate of Awareness (CoA) program offers the essentials of the comprehensive Certificate of Competency program. The most important updates in this CoA program are:
It now comprises the same new introduction course with actual trends and observations in manufacturing and MES/MOM and Smart Manufacturing, and the major part of the foundational course on relevant standards for MES/MOM as the CoC program.

A new course has been created comprising the most important elements of the CoC courses on MES/MOM Architecture and Manufacturing Master Data Management.

Also the subjects Smart Manufacturing and Manufacturing Maturity are combined in a new course.

The last course in this program focuses on the best practices with respect to preparing, selecting and deploying MES/MOM and Smart Manufacturing Solutions. Preparing includes the justification (ROI) with explicit examples.
In general, all courses of both programs include more pragmatic examples and more answers to "How to …" questions.
Select your training program: