During the execution of Manufacturing IT projects MOMi  can help your organization in three areas.
Project Execution
Ensure that you stay on track, follow the roadmap and stay in scope and budget.

Assist in gathering and describing the detailed requirements and the to-be processes.


Note: This role is a quality assurance activity.
Change Management
Next to the technical aspects of a project during the execution phase, there always is an impact on how people work together in your manufacturing operations. This impact is often not exactly known and may even be unexpected. Only during projects it becomes clear what change is required. MOMi business consultants can help to understand and address this change.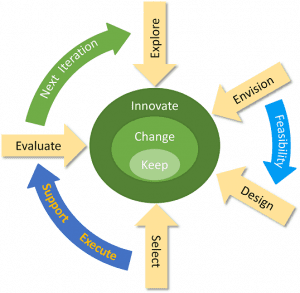 Business Change Cycle: Execute & Support
Coaching and Training
Coach your team in setting up the project, managing the stakeholders and the supplier/system integrator.

Coach your team to set up the support environment.

Training to provide a common baseline of knowledge that helps the team to go through the project faster.
MOMi consultants will bring in best practices, experience and templates to help your team to grow and be as effective as possible.