Let's talk about practical, deployable smart manufacturing strategies
In this one-day workshop, we examine the vision of Smart Manufacturing and Industry 4.0 and then consider Smart Strategies to start implementing the vision.
Based on considered strategies to start implementing the vision, the participants will walk away with a plan of action to deliver that most valuable of commodities – a return on investment now and in the future.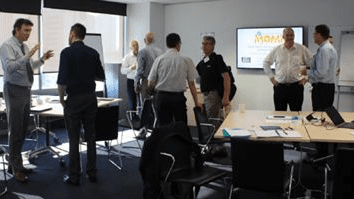 Classroom and Online
Classroom: The program is taught in a classroom environment on a single day.
Online: Instructor lead online version of the same program, delivered in 2 four-hour sessions on 2 consecutive working days.
Certificate
The workshop comprises several assignments. All participants who complete all assignments will receive the MOMi Education Certificate for this program.
Introductions

Workshop 1: Current understanding and initial experiences

The essence of Smart Manufacturing and Industry 4.0

Germany's Dual Strategy – how clever are these Germans?

The Smart Service Welt – how to get rich!

Technology, science or IT?

Current Status

Research, Government and Social Influence

The Chasm – how big is the Gap between Vision and Reality?

Let's see – examples of deployed smart solutions – successes, failures and pitfalls to avoid

Core Concepts Industry 4.0

Smart agents, Cyber Physical Systems, (Industrial) Internet of Things,

Workshop 2: Orient – Imagine smart solutions in your company!

What should you be doing NOW to become Industry 4.0 ready?

− Assessment: Manufacturing Maturity, Singapore Readiness Index

Preparing your next steps, will you crawl, walk, run or gallop?

The Smart Backbone – MES and MOM

Characteristics of an Industry 4.0-ready MES/MOM?

Workshop 3: Decision Time! What next?

Conclusions and Wrap-Up