This workshop explains the purpose and benefits of the ISA-88 standard and its role as both an engineering guideline and a management tool.
ISA-88 is important because it serves as a common language for better communication. It includes methodologies that help to reduce engineering cost and that serve as a management tool. It also supports to define operational requirements more precise and to identify what should and should not be automated. Using ISA-88 enables recipe development without the need for a control system engineer.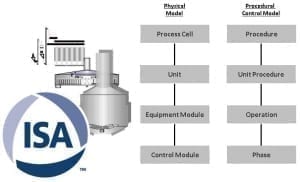 Through this course the attendees are getting a better understanding about:
Best practices for the design and operation of batch manufacturing

Using the standard for improving control for batch manufacturing

Insight how a consistent set of concepts, models and definitions can improve communication between parties involved in batch manufacturing
The course focuses on:
Structure and format of recipes and procedures

Definitions of appropriate levels for recipes and procedures

Hierarchy of manufacturing equipment and its control

Modular and re-usable control functions.
Classroom and Online
Classroom: The program is taught in a classroom environment on a single day.
Online: Instructor lead online version of the same program, delivered in 2 four-hour sessions on 2 consecutive working days.
Certificate
The workshop comprises several assignments. All participants who complete all assignments will receive the MOMi Education Certificate for this program.
Introductions

Part 1: Models and Terminology

Process model, physical model, equipment entity model

Process Cell classification

Procedural control model

Recipe model and contents

Modes and States, exception handling

Batch schedules

Control activity model, including recipe management

Part 2: Data Structures and Guidelines for Languages

Data model, data exchange and function charts

Part 3: General and site recipe models and representations

Recipe description

Equipment independent recipes

Equipment dependent recipes

Transformation to master recipes

Part 4: Batch Production Records

Description, object model, completeness, compliance and conformance

Summary and Close