MES – One Size Does Not Fit All
How to select an MES fit for your business needs: the MOM Solution Guide 2020 – MES.
Webinar – 8 December 2020
MES is the fundamental technology to building your digital transformation journey.  Selecting the right MES for your business needs can be a challenge!
MOMi's business consultant team have tracked the latest trends in Manufacturing Operations Management (MOM), particularly looking at Manufacturing Execution Systems (MES).
As part of our MOM Solution Guide, 43 MES suppliers from around the world have shared the details of services, technologies, quality and focuses of their MES solutions. The Solution Guide aims to provide our clients and business partners with clear solution overviews and insights into market developments.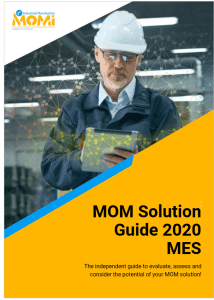 What is the MOM Solution Guide?

The findings – key trends and observations

How to use the guide?

Key takeaways

Q&A 
Webinar Date – 8 December 2020 | Duration – 30 mins.
Available in two sessions (with same content).