MP011
Workshop Continuous Improvement in Manufacturing There are several key lean manufacturing principles that need to be understood in order to implement lean. Failure to understand and apply these principles will most likely result in failure or a lack of commitment from everyone in your organization. Without commitment, the process becomes ineffective.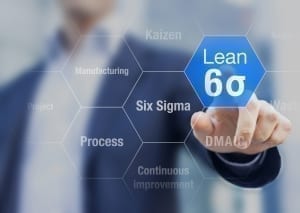 Continuous Improvement (KAIZEN) is a key principle of lean manufacturing. It should be the heart of your lean manufacturing implementation a mind-set throughout your whole organization.
This indicates as well, the process is never ending as there is always room for improvement. Do not get caught up in only trying to find the big ideas. Small ideas will often result in way bigger improvements. Kaizen addresses the way we work and generates the right culture for continuous improvement.
This 1-day workshop explains how Continuous Improvement contributes to long-lasting results. You will combine theory and practical exercises to help you to get started in your manufacturing environment.
Introduction

Continuous Improvement versus Lean Manufacturing

The Lean Manufacturing Process

Kaizen

Elimination of Waste

Policy deployment – the role of Lean Manufacturing and Kaizen

First Lean Steps

Just In Time

Variability Reduction and Standardization

The Manufacturing Facility

Flexible Manpower Systems

Design of Manufacturing Systems

Total Productive Maintenance and Overall Equipment Effectiveness (OEE)

Scope of Lean Manufacturing

Non-Manufacturing Applications for Lean Manufacturing and Kaizen

Supplier Relationships – Addressing the whole Value Chain

Design for Manufacture and Assembly (DFMA)

What is Six Sigma

The Roadmap, Impact and Strategy

Customer, Process, Employee

DMAIC Process

Wrap-Up
Price

Registration Fee
USD 990 | EUR 895 | ZAR 8200 | GBP 825 | SGD 1195

Wemmel, Belgium
Hosted by ATS Applied Tech Systems
Instructor(s): Jan Snoeij
Registration Fee: EUR 895