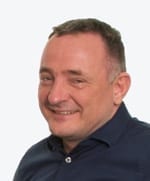 Mathijs Philips
Senior Business Consultant
MOM Institute
Mathijs Philips has 27 years experience with IT projects in industrial manufacturing organizations, from small scale shopfloor improvement projects, to multi-site improvement programs.
Mathijs has broad knowledge on manufacturing shopfloor processes and IT solutions in this domain. His educational background is in Industrial Engineering and Management Science (MSc) and he holds an MBA certificate in Organization Change Management. Mathijs can work as business advisor, as project manager on Business or IT side, and as program manager.
He is strong in analysis and he is sensitive for the organization and human side of change. Mathijs can take the initiatives to get the job done, organize and bind a team, manage stakeholders and coordinate and give direction.