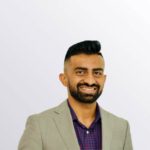 Nadir Khoja
MES MOM Manager & Consultant
ATS US
With over a decade of experience in diverse industrial sectors, Nadir possesses robust skills in Manufacturing operations and Industry4.0 solutions.
As MES/MOM Manager, Nadir delivers implementation services to manufacturers in different industries, to support them in their manufacturing digitalization journey, helping them get meaningful insights from their plant floor data.
Nadir is also a Data Analytics Professor. In this role, Nadir brings the industrial experience and academic expertise to facilitate a stimulating learning environment leading to improved student engagement.
Nadir presents a balanced mix of technical expertise, leadership capabilities, teaching prowess, with a strong knack for problem-solving and decision-making both independently and in a team environment.